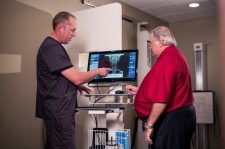 Chiropractor and Elements Massage Owner John Schofield clears up questions about the differences between chiropractic and massage treatments and how the two can work together as part of an overall wellness program.
Cedar Rapids, IA, October 11, 2016 (Newswire.com) - The medical professional estimates more than 100 million Americans suffer from chronic pain at a cost of more than $600 billion a year in medical treatments and lost productivity. With numbers this severe, there are many doctors who believe we should be doing more as a nation to educate people about prevention.
We all experience neck, shoulder or back pain at some point in our lives. The question is, when it happens, what should we do? Do we work through it? Call a massage therapist? A chiropractor? How do you know?
According to Dr. John Schofield,. a chiropractor for more than two decades, and an Elements Massage studio owner in Cedar Falls, Iowa, the best thing to do is to listen to your body and take inventory of your symptoms.
"Does your pain include numbness or tingling in an area of my body? Are you getting headaches? Experiencing weakness or a loss of strength?," questions Schofield.
If so, these complaints would more likely send you to a licensed Chiropractor, a doctor who is trained in diagnosis, spinal manipulation and adjustment. Chiropractors work to restore optimal function to dysfunctional joints. Chiropractic visits can literally "straighten out" these problems over time, giving many people a renewed sense of wellness. "The human body functions more efficiently when it's aligned," according to Dr. Schofield.
On the other hand, if your issues center around over-worked muscles from gardening, working at a computer all day, or being a weekend-warrior, chiropractic and/or massage therapy may be just the ticket to soothe those aches and pains.
"Licensed massage therapists work the muscles and soft tissues and provide countless therapeutic benefits. A therapeutic massage can help reduce muscle spasms and inflammation, flush out the lymphatic system and strengthen the immune system," says Dr. Schofield. 
Dr. Schofield also believes there is tremendous synergy between chiropractic adjustments and massage therapy, and combining the two is the key to wellness for many people. His employees at both the studio and clinic share services with one another and he encourages his clients to do the same.
Mary Mathison does just that, and swears by the results. A hard-working mom and busy office professional, she used to think of her monthly appointments as a "luxury." Now, her massage and chiropractic appointments keep her on the path to good health and well-being. Her advice? "Don't wait until you're in pain to seek the help of a massage therapist or chiropractor."
Mathison feels her proactive approach is an investment in herself that pays off. She touts being more flexible, handling stress better and feeling more relaxed, among the benefits of this dual approach to wellness…a dual approach that truly results in "healing in harmony."
Source: Elements Massage
Share: